Colleen Robertson DVM
Veterinarian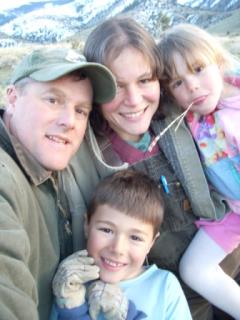 Colleen enjoys every aspect of practice at John Day River Veterinary Center. Colleen grew up in the Rocky Mountains of British Columbia, on her family's farm. She attended veterinary school at the University of California at Davis. Completing her doctorate of veterinary medicine (DVM) in 1998, she stayed on to complete a Masters of Preventive Veterinary Medicine (MPVM) focused on population health and epidemiology in 1999.
She joined this practice in the spring of 1999 with Hans Magden when it was Gambler Veterinary Clinic. Here she was fortunate to meet her husband, Shaun. She cherishes her family of four. Together they have some cattle, horses, two cats, chickens, a cowdog named, Soda, and a bird dog named Kenai. Every day she is thankful for the wonderful clientele and support staff at JDRVC.
Colleen maintains membership in the Oregon Veterinary Medical Association, American Veterinary Medical Association, American Association of Bovine Practitioners, and currently sits on the Oregon Veterinary Medical Examining Board.