Colleen enjoys every aspect of practice at John Day River Veterinary Center. She grew up in the Rocky Mountains of British Columbia, on her family's farm. Colleen attended veterinary school at the University of California at Davis. Completing her doctorate of veterinary medicine (DVM) in 1998, she stayed on to complete a Masters of Preventive Veterinary Medicine (MPVM) focused on population health and epidemiology in 1999.
---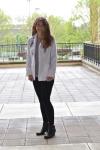 Dr. Jandy Torland is excited to be back in Grant County after being gone for veterinary school at Oregon State University. She loves working with all animals, but has a special interest in equine medicine and lameness. When she is not working she loves to horseback ride, hunt, fish and do almost anything outdoors.
---
Back row: Kayla Westlake, veterinary assistant, with Gimpy, Emma Winkelman, veterinary assistant, Ann Myers, receptionist, Kieley Williams, veterinary assistant, Jandy Torland, certified veterinary technician, Karen Rodgers, office manager, Mykah Byers, veterinary assistant. Front row: Julie Stafford, DVM, Joe Bellinger, veterinary assistant, Jaine Homan, veterinary assistant, Colleen Robertson, DVM, Laura Meadows, DVM.